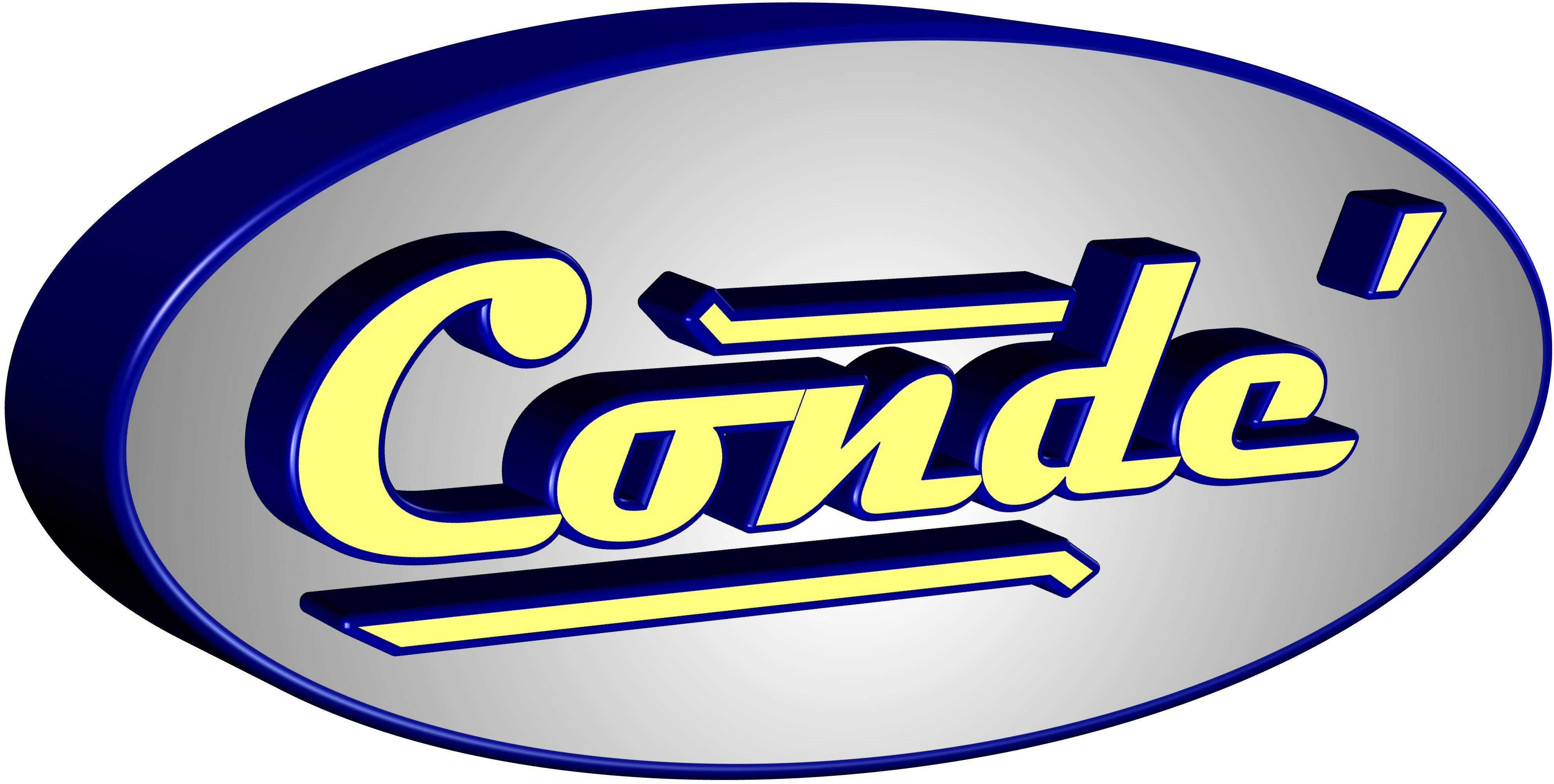 Condé POWER PAK Gas Engine Vacuum Units
Condé POWER PAK Units are designed to use with vacuum tank systems. These units are ideal for truck systems that require auxiliary power. Power Pak units are complete and require only a line from the vacuum pump to the tank for installation. If you have a tank, we have a complete vacuum unit ready for easy and quick installation to get your system up and running fast. All Power Pak gasoline powered units are complete with relief valves and supplied with oil catch muffler. As with all vacuum systems, a primary shut-off and secondary moisture trap should be installed in the line from the pump to the tank.
Condé SDS Ultra Power Pak Unit with Briggs 18 hp twin
Call for Price
PDF documents: best viewed with Adobe Acrobat 4.0 or higher. Click icon below for free download.


Maximum air flow
SCFM at 15″ Hg
Engine
Weight
Oiler
Drive System

– 230 cubic feet per minute @ free air
– 115
– Briggs Vanguard Twin, electric start
– 350 lbs.
– Automatic
– V Belt with guards

Vacuum only or Vacuum/Pressure
Recommended Tank Size- 1200 to 2500 gallons
Pull Down Time to 15″ Hg

– 1000 gallons
– 1500 gallons
– 2000 gallons
– 2500 gallons

– 25 seconds
– 39 seconds
– 52 seconds
– 65 seconds

---
Condé SDS 12 Power Pak Unit with Honda GX 390
Call for Price SDS 12 Tank Accessories
Maximum air flow
SCFM at 15″ Hg
Engine
Weight
Oiler
Drive System

– 180 cubic feet per minute @ free air
– 90
– Honda GX390, electric start
– 275 lbs.
– Automatic
– V Belt with guards

Vacuum only or Vacuum/Pressure
Recommended Tank Size- 1000 to 2000 gallons
Pull Down Time to 15″ Hg

– 500 gallons
– 750 gallons
– 1000 gallons
– 1500 gallons
– 2000 gallons

– 16 seconds
– 24 seconds
– 32 seconds
– 50 seconds
– 67 seconds

---
Condé SDS 6 Power Pak Unit with Honda GX 270
Call for Price
Maximum air flow
SCFM at 15″ Hg
Engine
Weight
Oiler
Drive System

– 115 cubic feet per minute @ free air
– 58
– Honda GX270, electric start
– 200 lbs.
– Automatic
– V Belt with guards

Vacuum only or Vacuum/Pressure
Recommended Tank Size- 500 to 1000 gallons
Pull Down Time
to 15″ Hg


– 500 gallons
– 750 gallons
– 1000 gallons
– 1500 gallons
– 2000 gallons


– 26 seconds
– 40 seconds
– 53 seconds
– 80 seconds
– 106 seconds

---

Condé SDS 6 Power Pak Direct Drive Unit with Honda GX 270

Pump is not engaged at idle allowing for longer pump life
Call for Price
Maximum air flow
SCFM at 15″ Hg
Engine
Weight
Oiler
Drive System

– 115 cubic feet per minute @ free air
– 58
– Honda GX270, electric start
– 200 lbs.
– Automatic
– Direct Drive, 2:1 ratio with centrifugal clutch

Vacuum only or Vacuum/Pressure
Recommended Tank Size- 500 to 1000 gallons
Pull Down Time
to 15″ Hg


– 500 gallons
– 750 gallons
– 1000 gallons
– 1500 gallons
– 2000 gallons


– 26 seconds
– 40 seconds
– 53 seconds
– 80 seconds
– 106 seconds

---

Condé Model Super Power Pak Unit with Honda GX 160

Call for Price Super 6 Tank Accessories
Maximum air flow
SCFM at 15″ Hg
Engine
Weight
Oiler
Drive System

– 70 cubic feet per minute @ free air
– 35
– Honda GX160, electric start
– 175 lbs.
– Automatic
– V Belt with guards

Vacuum only and Vacuum/Pressure
Recommended Tank Size- 300 to 500 gallons
Pull Down Time
to 15″ Hg


– 100 gallons
– 200 gallons
– 300 gallons
– 400 gallons
– 500 gallons


– 8 seconds
– 17 seconds
– 25 seconds
– 34 seconds
– 52 seconds

---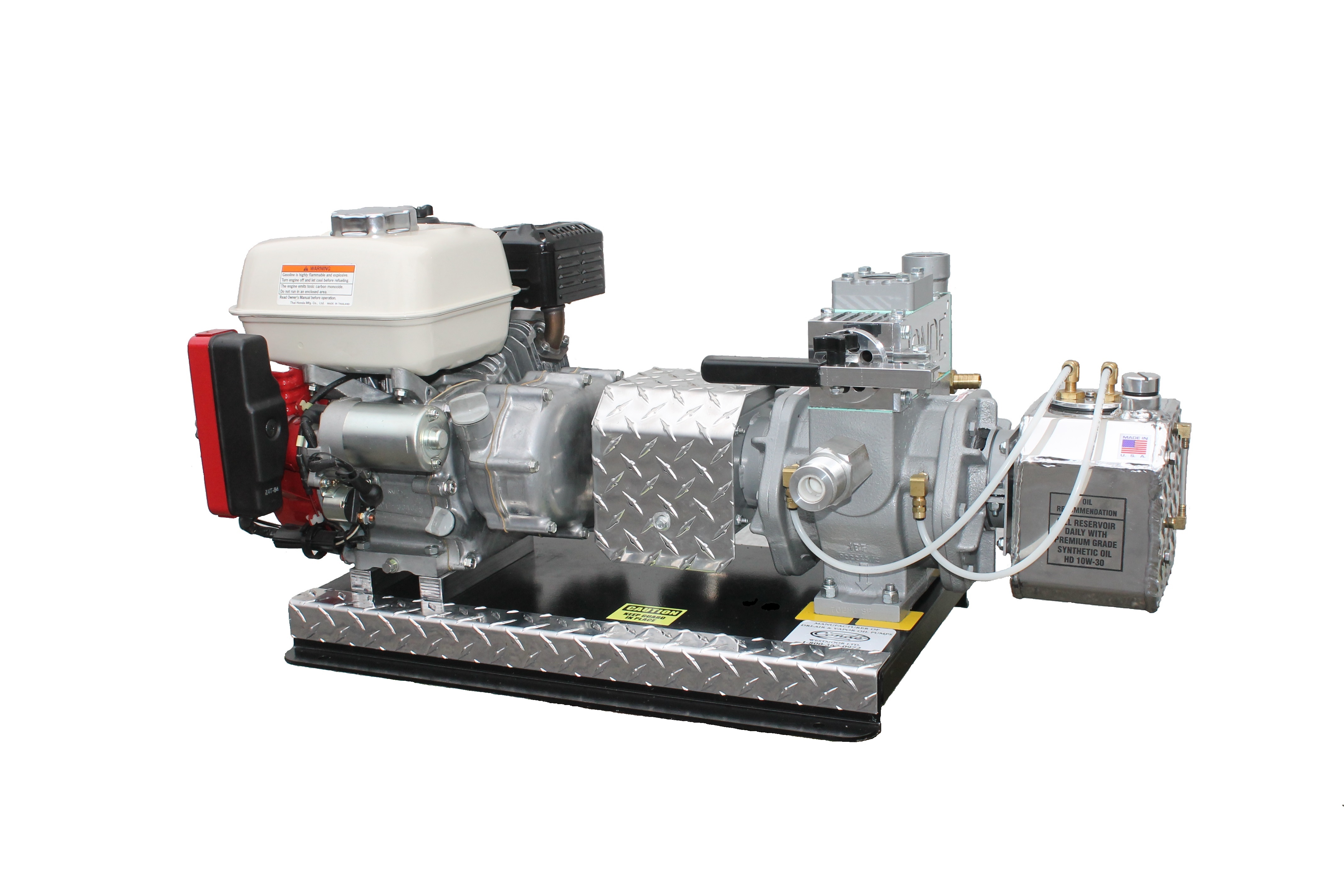 Condé Model Super 6 Power Pak Unit, Direct Drive with Honda GX 160


Pump is not engaged when motor is at idle, allowing for longer pump life.Download Specifications Call for Price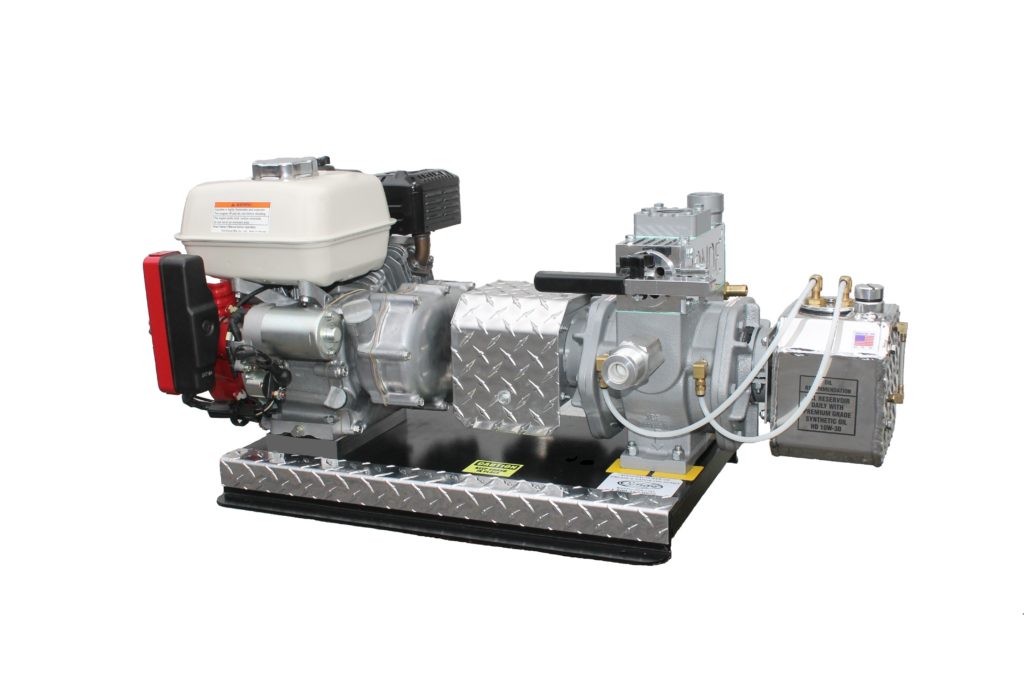 Maximum air flow
SCFM at 15″ Hg
Engine
Weight
Oiler
Drive System

– 70 cubic feet per minute @ free air
– 35
– Honda GX160, electric start
– 175 lbs.
– Automatic
– Direct Drive, 2:1 ratio with centrifugal clutch

Vacuum only and Vacuum/Pressure
Recommended Tank Size- 300 to 500 gallons
Pull Down Time
to 15″ Hg


– 100 gallons
– 200 gallons
– 300 gallons
– 400 gallons
– 500 gallons


– 8 seconds
– 17 seconds
– 25 seconds
– 34 seconds
– 52 seconds
Condé ProVac 3 Power Pak Unit with Honda GX 160
Call for Price ProVac 3 Tank Accessories
Maximum air flow
SCFM at 15″ Hg
Engine
Weight
Oiler
Drive System

– 35 cubic feet per minute @ free air
– 18
– Honda GX100 pull start or GX160 electric start
– 160 lbs.
– Automatic
– V Belt with guards

Vacuum only or Remote Slide Valve for Vacuum/Pressure
Recommended Tank Size- 100 to 300 gallons
Pull Down Time
to 15″ Hg


– 100 gallons
– 250 gallons
– 300 gallons
– 400 gallons
– 500 gallons


– 16 seconds
– 37 seconds
– 50 seconds
– 64 seconds
– 84 seconds
Condé ProVac 3 Power Pak Unit Direct Drive with Honda GX 160
Pump is not engaged at idle allowing for longer pump life
Call for Price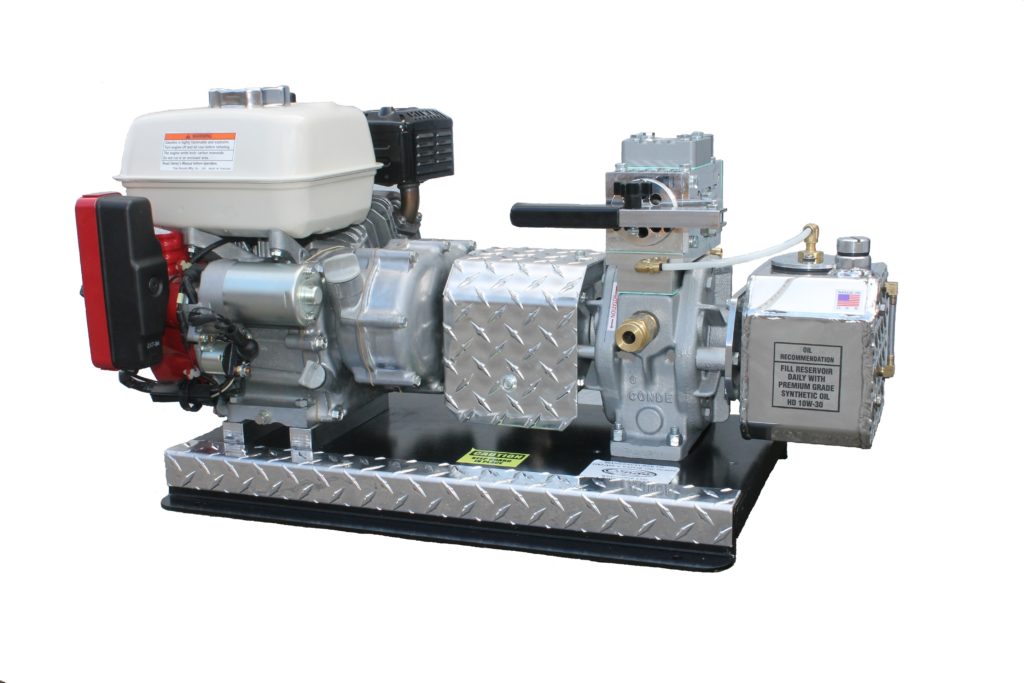 ---
Maximum air flow
SCFM at 15″ Hg
Engine
Weight
Oiler
Drive System

– 35 cubic feet per minute @ free air
– 18
– Honda GX160 electric start
– 160 lbs.
– Automatic
– Direct Drive, 2:1 ratio with centrifugal clutch

Vacuum only or Remote Slide Valve for Vacuum/Pressure
Recommended Tank Size- 100 to 300 gallons
Pull Down Time
to 15″ Hg


– 100 gallons
– 250 gallons
– 300 gallons
– 400 gallons
– 500 gallons


– 16 seconds
– 37 seconds
– 50 seconds
– 64 seconds
– 84 seconds
| | | |
| --- | --- | --- |
| Part No. | Description | |
| OLUNSDSULT18 | Conde SDS Ultra, Vac. Only, Twin Vanguard Briggs El. Start | |
| HDUNSDSULT18 | Conde SDS Ultra, Vac/Press., Twin Vanguard Briggs El. Start | |
| OLUN12SDS13E | Conde SDS 12, Vac. Only, GX390 Honda El. Start | |
| HDUN12SDS13E | Conde SDS 12, Vac/Pres., GX390 Honda El. Start | |
| OLUN06SDS09E | Conde SDS 6, Vac. Only, GX270 Honda El. start | |
| HDUN06SDS09E | Conde SDS 6, Vac/Press, GX270 Honda El. start | |
| OLUN06SDS9DD | Conde SDS 6,9 hp Direct Drive Unit GX270 Honda El. start | |
| HDUN06SDS9DD | Conde SDS 6,9 hp Direct Drive Unit GX270 Honda El. start | |
| OLUN06SS05ES | Conde Super 6, Vac. Only, GX160 Honda El. Start | |
| HDUN06SS05ES | Conde Super 6, Vac/Pres.,GX160 Honda El. Start | |
| OLUN03PV05ES | Conde ProVac 3, Vac. Only, GX160 Honda, El. Start | |
| OLUN03PV3PS | Conde ProVac 3, Vac only, GX100 Honda, Pull Start | |
| HDUN03PV05ES | Conde ProVac 3, Vac/Pres.,GX160 Honda El. Start | |